Wisconsin's Communities Know Safe Water Starts with Safe Surfacing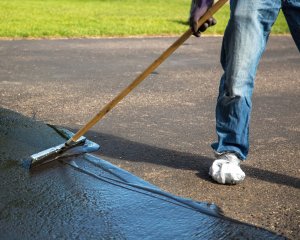 History is full of stories of human inventions turning out to be not as beneficial, economical, or healthy as expected. Take DDT. Used by the U.S. government to slow malaria and typhus outbreaks in World War II and commercialized for U.S. sale in 1945, it was viewed as a miracle pesticide. Mounting evidence of DDT's chronic toxicity and its role as a human carcinogen led to the 1972 national ban on DDT.
Pavement sealants extend the life of driveways and parking lots, but evidence shows that tar-based sealants arethe  overwhelming source of environmental polycyclic aromatic hydrocarbons (PAHs)—toxins that can cause cancer and developmental problems in children and that are linked with cardiovascular disease and poor fetal development. The American Medical Association, Children's Hospital of Wisconsin, and other health advocates attest to the dangers PAHs pose to humans.
Weather and foot and vehicle traffic release PAH particles into our air, water, and homes. Milwaukee's streambeds are full of PAHs, and it's estimated that over three-quarters of it came from tar-based sealants. This PAH-laden sediment ends up in Lake Michigan, where it can cause tumors in fish and other larger species and kill small organisms.
"Keeping PAHs out of Lake Michigan and its tributaries is well worth the effort," says Vicki Elkin, Executive Director of the Fund for Lake Michigan. "It's about protecting not only our health and ecosystems but also our municipalities and taxpayers, who could be on the hook for cleaning up sediment contaminated with PAHs."
Where avoiding PAHs is concerned, there's good news. First, asphalt-based sealants, roughly equal in cost and effectiveness to PAH-heavy tar-based sealants and widely available, offer an alternative. Second, Wisconsin municipalities are beginning to understand the dangers of PAH-based sealants and are taking action to ban their local sale and use.
In 2016, the Fund for Lake Michigan awarded a grant to Southeastern Wisconsin Watersheds Trust (aka Sweet Water) to help municipalities in the Lake Michigan watershed protect their communities by adopting bans on the use of coal-tar based sealants.  Since then, Sweet Water has worked with Lakeshore Natural Resources Partnership, Fox-Wolf Watershed Alliance, and Clean Wisconsin to reach communities throughout the Lake Michigan Basin and along the shore of Lake Superior.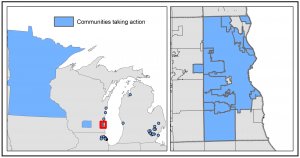 So far, seventeen municipalities in the Lake Michigan watershed—Milwaukee, Glendale, Franklin, Brown Deer, Elm Grove, Shorewood, Whitefish Bay, Port Washington, Greenfield, West Allis, Hales Corners, Wauwatosa, Bayside, Greendale, Sheboygan, St. Francis, and, most recently, Manitowoc—have joined others in Wisconsin and across the U.S. in passing bans on the sale and use of high-PAH pavement sealants.
"Communities that know about the dangers of PAHs have taken decisive action to protect the health of their children and their waters" said Jon Richards, a consultant with Sweet Water. "With only two exceptions, these local ordinances have passed unanimously. Governments, interest groups, and the public are really putting their support behind them."
Sealant applicators are also on board with avoiding use of PAH-based sealants, which cause a burning sensation on their skin and lungs during application, require they wear heavy protective suits and masks, and don't work better than safe alternatives.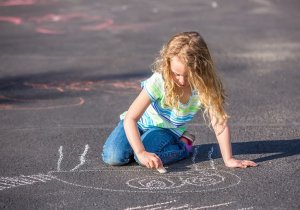 Other cities in the Lake Michigan watershed, including Algoma, Racine, and Green Bay, are close to passing their own bans on PAH-based sealants. In addition, Kewaunee County recently joined Milwaukee County in passing a resolution banning the use of these sealants for all County projects.
"As communities become aware of the impact PAHs have on human and environmental health, they're acting. This is something we can easily do together to protect ourselves and to safeguard Lake Michigan's ecology and water quality for future generations," says Elkin.