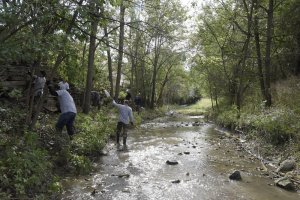 Grant seekers are welcome to submit pre-proposals to the Fund for Lake Michigan at anytime throughout the year for projects that fit within our mission and grant making priorities. The mission of the Fund for Lake Michigan is to improve the health of Lake Michigan, its shoreline and river systems, for the benefit of the people and communities that depend on it for water, recreation and commerce.
Grant Making Priorities
The Fund for Lake Michigan gives priority to on-the-ground projects that have near-term, direct and quantifiable impacts on water quality in the Lake Michigan watershed. These projects include protecting critical natural habitats, reducing polluted runoff and generally making water resources more swimmable, fishable and drinkable.   The Fund also supports water quality monitoring and planning that informs and leads to on-the-ground restoration and water-quality improvement projects.  Special consideration is given to projects that leverage significant public and private investments from other Lake Michigan and Great Lakes donors.  
The Fund typically does not support stand-alone advocacy efforts, general research projects, or education. The Fund may consider applied research projects that provide information important in advancing on-the-ground conservation or restoration.  Similarly, education might be considered as a component of outreach plans embedded in larger projects.