Responding to a need: the Land Restoration School
Do you know people with a passion for healing the earth?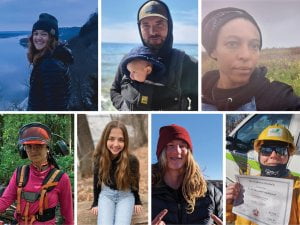 They've got ideas for change. They embody and are committed to diversifying environmental fields. What they need: ecological restoration knowledge and skills. Enter the Land Restoration School (LRS) at Crossroads at Big Creek in Sturgeon Bay.  The LRS is excited to launch its inaugural session this summer with a cohort of seven future ecological restorationists.
In 2020, Crossroads at Big Creek was the proud recipient of a Fund for Lake Michigan grant to heal degraded wetlands connected to Sturgeon Bay. That grant helped raise awareness that regional environmental deficiencies were not just in the ecological function of wetlands, but also in finding qualified people to do the healing. This helped inspire Crossroads to launch the Land Restoration School, an initiative that delivers an 8-week residential academic session (12 weeks if the optional field practicum is included). The LRS teaches the principles, practice and planning of ecological restoration for degraded lands — an educational immersion in land restoration.
Key ideas
 Central to the LRS are (1) a paid fellowship stipend and provided housing; (2) an experience modeled on biological field stations, where participants engage in land-based learning and collaborative discovery; and (3) the strength derived from being rooted in diversity, equity and justice.
"We believe that a diversity of backgrounds, experiences and hometowns in our restorationists strengthens the learning environment," said Dan Collins, co-founding director. "Participants enter the program with unique skills and experiences that will enhance our high expectations for learning together."
The need is clear. The reclamation and restoration of degraded lands is critical. There is a growing awareness of ecological restoration as a societal need, a generational obligation, and a viable career path. In addition to recent evidence from conservation biology and environmental science, awareness of this need spans cultural understandings of the place humans occupy in nature across generations.
"The Land Restoration School responds to a need in Door County and beyond," said Nancy Aten, co-founding director. "For the well-being of our communities and the earth and to combat climate change and habitat destruction, we need to teach and share the knowledge of how to reclaim and restore degraded lands, and we need skilled people doing this critical work."
A perfect place to learn
Crossroads' preserves offer a large number of native communities — upland forest, cedar swamp, creek, estuary, wet meadows, upland meadows and more. They include lands that have been altered and challenged. "This mix creates an ideal teaching ground with decades of restoration work ahead," said Collins. The LRS classroom is indoors and outdoors; hands-on restoration training is an integral part. Crossroads is a real-life model of landscape transformation in progress.
Chris Young, Ph.D., of the Urban Ecology Center Institute and the University of Wisconsin-Milwaukee, serves as the School's curriculum chair and is guiding the faculty in developing learning objectives and assessment processes. The curriculum is ecological restoration — assisting the recovery of degraded lands toward ecological health and thereby contributing to climate resilience and community well-being.
The curriculum is infused with guest faculty, each teaching for 1-4 days on special topics in ecology, geology, soils, climate, botany, habitats and plant communities. Additional topics include people-land relationships and community resilience; ecological restoration framework, principles, planning and field methods; and professional development and team building.
In the eighth week, graduates will receive a badge of Land Restoration School completion and should expect to have the knowledge and skill set to be employed in the ecological restoration field or start their own operation as a budding entrepreneur.
Making lasting connections
The LRS seeks to expand connections between organizations, including grantees of Fund for Lake Michigan, with ecological restoration graduates, to the sustained benefit of both. Among this year's cohort are Martina Patterson, naturalist for Nearby Nature in Milwaukee, and Megan Hart and Hanan Ali, alumni of Cream City Conservation in Milwaukee. In future years, an organization might sponsor an LRS participant, who could then add value to the organization's work and expand the organization's capacity.
"We have a long history of environmental stewardship and education," said Laurel Hauser, executive director of Crossroads at Big Creek. "The Land Restoration School represents our aspirations for sharing this ethic in a deeper and more inclusive way. We are excited to be taking these next steps." The LRS is funded initially through private donations.
Along this journey, the LRS expects to expand the yearly summer cohort (to twelve), diversify its funding, further develop dedicated field station facilities, and deepen connections. We welcome you to join us in this work, at landrestorationschool.org and .
The Land Restoration School is an initiative of Crossroads at Big Creek in Sturgeon Bay, Wisconsin. This academic program teaches the principles, practice and planning of ecological restoration for degraded lands — an educational immersion in land restoration.
Crossroads at Big Creek Learning Center and Nature Preserve is located at 2041 Michigan Street, Sturgeon Bay, Wisconsin. Crossroads is a 501(c)3 organization committed to offering education, conducting research and providing outdoor experiences to inspire environmental stewardship in learners of all ages and from all backgrounds.